Heating Equipment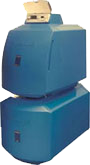 Buderus
Buderus boilers and controls are designed in Europe, where fuel costs are significantly higher than in the U.S. and environmental regulations are more stringent. Models like the G115 are constructed with the highest quality materials and designed to maximize the heating value of every ounce of fuel. The triple-pass design holds the gases in the boiler longer, allowing the cast iron to absorb the maximum amount of heat. A 3" jacket of thermal insulation encases the entire boiler block to reduce standby losses. When paired with the Logamatic control, a Buderus boiler can vary its output temperature to match the weather and avoid room temperature swings.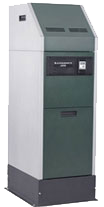 Peerless
Peerless is one of world's leading manufacturers of cast-iron boilers, with a variety of models suitable for chimney venting or direct venting (without a chimney). Direct-vent models make great replacements for electric heating or heat pumps. High-efficiency models that achieve the ENERGY STAR® rating will reduce fuel consumption and save money. All Peerless boilers feature an insulated, enameled steel jacket that reduces heat loss.
Air Conditioning Equipment
Service
Northboro Oil provides complete maintenance services for central air conditioning systems. Our annual inspection and tune-up service provides essential preventive maintenance to guard against breakdowns and restore the system to optimal efficiency. If your system ever breaks down, our experts will diagnose and repair the problem without delay.


Installations
We sell and install advanced cooling equipment from some of the world's leading manufacturers. If you're looking to install central air conditioning or upgrade your system, our cooling specialists will help you choose the equipment that best meets your needs. Our crews perform meticulous installations that adhere to the manufacturers' specifications, so your new system delivers optimal performance and efficiency.

Bryant
Bryant is a leading American manufacturer of furnaces, air conditioners, boilers, heat pumps and more. The company has built a tradition of reliable comfort by rigorously testing every product and system - even beyond what the heating and cooling industry requires. Outside the lab, Bryant uses field trials to test product performance in real-world conditions.


Ductless Mini-Split Air Conditioners
If you've always wanted central air conditioning, but don't want to deal with the inconvenience of installing ductwork in your home, then a ductless mini-split A/C system is for you! This energy-efficient ductless air conditioner (which serves as a heat pump during the winter) allows you to cool your home without ductwork! Perfect for installing in tight, compact spaces, ductless systems consist of an indoor air handling unit and a slim-line outdoor condenser unit, connected by refrigerant lines running through a small opening in the wall or ceiling. The sleek, compact indoor unit can be installed high up on a wall or suspended from the ceiling (with easy access via remote control), and it's so high-tech it looks nothing like a typical air conditioner. The outdoor unit cycles the refrigerant through the lines to and from the indoor unit, where the air is conditioned and then quietly distributed into the open space.


Heating Oil Tanks

Granby
Granby Steel Tanks has been the leader in the manufacture and distribution of steel tanks for the storage of petroleum products since 1954. The company offers a wide range of high-quality heating oil tanks that combine security, durability and reliability. The latest addition is the Granby 20+, which features a high-performance coating for corrosion protection and carries a 20-year warranty.

Dehoust
A Dehoust 2-in-1 tank is actually made up of two tanks. The inner tank is made of polyethylene, and the outer tank of galvanized steel. This double-wall protection is designed to virtually eliminate the risk of a release from the tank. The tank also has an eye-pleasing, modern look.
Thermostats

Honeywell Focus PRO Wireless Thermostat
This innovative wireless thermostat frees you from that ugly old device on your living room wall! No hard-wiring needed ...simply place the control module in any room you like, and it will communicate with a receiver on or near your HVAC system. You can be comfortable wherever you go, with the push of a button.